Topaz is the birthstone for the month of November. Although Topaz is most commonly associated with blue, it is the Precious and Imperial, in yellow and orange to beautiful peach or pink hues, that are the November birthstone: great colors for Fall! Whether you're looking for a statement piece or if you're in the market for something more understated, you can find a Topaz with the perfect color for you.
Topaz has a remarkable amount of sparkle to it, listing high on the table of refractive index. Not quite as sparkly as a diamond but more-so than a quartz or aquamarine, it's certainly brilliant enough to catch one's eye on a hand or in a necklace! The Imperial Topaz in our collection are custom cut to sparkle and be as beautiful as can be and thus they are a wonderful fashion accessory that are sure to draw people's attention.
Natural Imperial Topaz is the rarest variety of Topaz, ranging in color from dark orange to light red-orangey-peach. The origin of the term Imperial comes from both the Russian and Portuguese/Brazilian imperial families. Some say you can only call it "Imperial" Topaz if it is mined from a specific region in Brazil known as Ouro Preto. Topaz is still associated with royalty to this day! The best imperial topaz is a saturated peachy pink, which mimics gems such as a Padparadscha Sapphire and gem Morganite, but with an added sparkle and richness.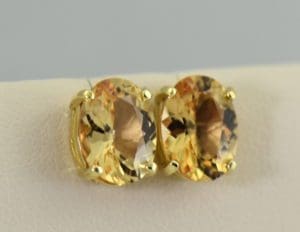 You may sometimes see the term Precious Topaz used to denote less intense colors of Topaz, or those that are more in the yellow or gold color range. These are also quite rare on the market today to the point that Citrine is used as a substitute birthstone. A type of quartz, Citrine can be found in similar orangey-yellow hues to Topaz but since it is much more common, it is a more affordable option if topaz is a bit more than you want to spend. That said, we have natural Topaz gems starting under $200 to make these affordable for every November baby.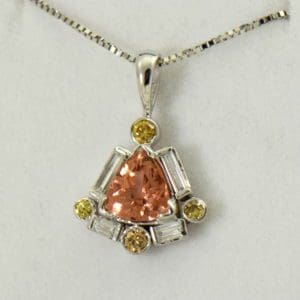 Imperial Topaz is always a staple in our store, an employee favorite. We have many beautiful pieces in stock ranging from the more modest pendants to a fantastic Imperial Topaz ring or two, as well as many loose gemstones if you're looking to have something designed. Visit our store page to see more!